Phase Two of the church renovation is underway and will continue all summer. We scheduled the project for the summer to have minimum effect on the preschool and to have most work completed in time for preschool opening in September. The project faced several delays related to COVID and Poway city permitting.
As with any construction project, we have had to adjust due to findings on the ground, funds available, permits, and schedules. Here are the actions you will see this summer:
Demolition of the old parish hall

Construction of the new accessible parking lot on the site of the parish hall that will have a surface that can be used as an extended patio for church events

Construction of a new, accessible walkway to the Columbarium

Renovation of the current walkway to the Columbarium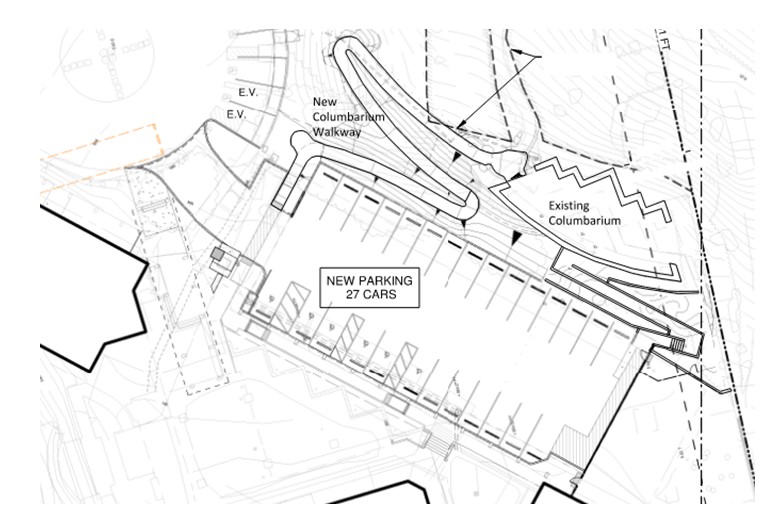 We have added temporary disabled parking to the north parking area in the main lot. The bartmobile electric cart provides rides from this location to the sanctuary during weekend services.
Due to increased costs and extended lead times for playground equipment, the enlargement of the playground will not take place in this phase. The current playground is sufficient for a preschool enrollment of 82 students, well above our current enrollment.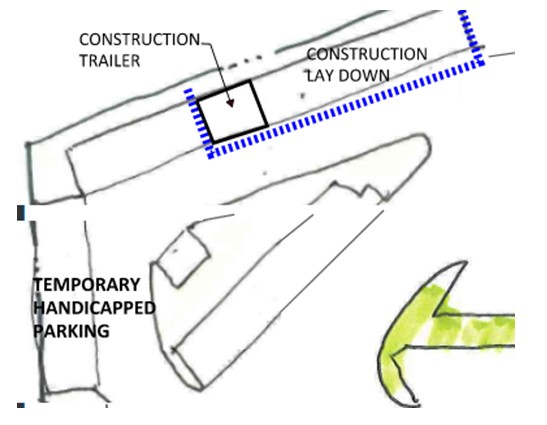 Why the Project Needs to Be Completed this Summer:
Construction of Phase Two this summer meets our commitment to the City of Poway to address campus accessibility issues this summer.

The church has been cited by the City of Poway for non-compliant accessible parking in the upper parking circle and non-compliant path-of-travel to and from the upper parking circle. This Phase Two work will remedy these issues. Poway allowed the church until this summer to correct these deficiencies.

Funding for the project is available now. If we delayed construction of Phase Two until next year we would have had to absorb increased costs of materials and labor.

Construction now will eliminate another year of potential exposure to additional repair/replacement costs to address overdue deferred maintenance of the 53-year-old parish hall.

The project management team, consultants, general contractor and the City of Poway are in place to deliver the project this summer. If we had to start over, we might not be able to get all these elements in place again by next summer, causing further delays and increased costs.
What Would Happen If We Postpone a Year:
We would need to request another year's deferral from the City of Poway to address the accessibility non-compliance issues. There is no guarantee the city would grant this request and we could face fines.

Our plan approvals would expire, and we would have to re-submit, pay new plan check fees and start the review and approval process over.

Inflation would increase the cost of construction.

We would incur the time and expense of re-bidding project.

The city/county/state can change building codes at any time, and we would have to redesign and pay for changes that could occur between now and next year.

We would have to pay for additional consultant fees to revise submittal drawings and the processing efforts for permits a second time.

Our Poway city planner is retiring July 6. We would have to restart the review and approval process with a new planner.

The church exists because of a Conditional Use Permit (CUP) that allows the church to operate in this zone. This permit was modified in 2020 to entitle our phased parish community center project. This CUP modification entitlement expires on April 7, 2022. By undergoing this construction in 2021, we extend the life of this permit. Otherwise, we would have to file a time-extension request for approval by the city council and risk incurring additional costs.
We realize that the construction adds noise, dust, and other inconveniences to the campus and will cause disruptions in administrative functions from time to time. We ask everyone's patience as we continue this project that advances our shared vision for a more welcoming, accessible, community-centered church.