Alexandra Bernier
Alexandra Bernier will graduate from Del Norte High School later this month and will pursue a Criminal Science major at Trinity Washington University. Lexie is originally from Haiti. She came to the U.S. with her brother for their safety and for better educational opportunities. She has been a member of St. Bart's for the past two years, participating in the Youth Group and a Youth Mission Trip to LA and Diocesan Youth Retreats. Lexie has worked on Interfaith hygiene and food packets for homeless teens. She is an Acolyte, a Lector and has been part of the Adult Choir. Lexie has been involved in Theater Production at her school and has earned the Math Character Award. Fr. Marks writes "Lexie is a survivor, learning English in two years and working 12 months a year, 6 days a week to study in a foreign language at a rigorous school. Lexi will work hard, engaging peers and faculty; challenge the mission of her school, be involved in community groups/peer teachings and nurture others to be better people."
Lexie is receiving the Brittany K. Stark Memorial Scholarship.
---

Miles Jones
Miles Jones attends Rancho Bernardo High School and will major in Mechanical Engineering and Aerospace at California Institute of Technology, Cal Tech. Miles has served as an acolyte for 5 years, a Lector, Sunday School Aide and Vacation Bible School Aide. He had participated in 6 Youth Mission Trips. Miles chaired the St, Bart's Youth Leadership Team. Miles has been a Silver Star Recipient for the past 4 years, earning over a 4.0 GPA. He is a member of the National Honor Society and California Scholarship Federation for 4 years, an AP Scholar with Distinction, a Commended Student for the National Merit Scholarship Program. He was a Science Olympiad in both Middle and High School, having coached teams for 3 years, received the Science Department Award and was a member of RB's Robotics team for 2 years. Miles has tutored Math and Science for 3 years. He is a Bronco Ambassador. Miles is an All Palomar League runner and has participated in Cross Country for 3 years and Track & Field for 4 years. He is the Captain for both teams. Miles has been named the Cross Country Most Valuable JV & Varsity Runner and is a Scholar Athlete. He has earned San Diego Union Tribune Scholar Athlete for 2 years. He has participated in the San Diego 100 Miles Ultramarathon for 4 years. Miles has volunteered for the Poway Midland Rail Road for 2 years. Coash Colson writes "Miles is extremely trustworthy, loyal, kind, considerate, cheerful, disciplined, having high moral standards, integrity and honesty."
Miles is receiving the Lucille C. Heide Memorial Scholarship.
---

Alexandre Bernier
Alexandre Bernier is a senior at Rancho Bernardo High School and will attend Dominican University of California majoring in Business Administration and Theology. Lex is originally from Haiti. He came to the U.S. with his twin sister due to the violence in their country and to receive a better education. Lex has been an Acolyte for 2 years, a Sunday School Aide and a member of the Youth Group participating in Interfaith Community Services Feeding program. Lex has played Varsity Soccer for 2 years, receiving the Varsity Athletic Award. He is a member of the Elite Club National League traveling soccer team. Lex has earned two STABLE Awards for Learning in Economics and French. Katelynn Estrada, Economics teacher writes, "Lex is a standout student, highly regarded by others. He is respectful, intelligent, friendly, inclusive, and enthusiastic with a tremendous work ethic."
Lex is receiving the St. Bartholomew's Scholarship.
---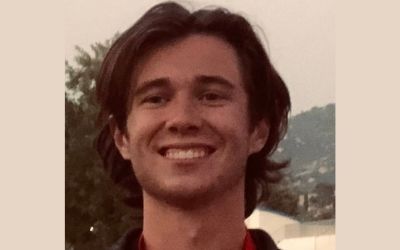 William Oakes
William Oakes attends Classical Academy High School and will attend Regis University in Colorado to study Health Science. Will was the Youth Vestry Representative in 2019. and a Vacation Bible School Aide. He was a driver picking up food for Feeding San Diego program at St. Bart's. He has received the Caiman Award for Character at his school. He has participated in Cross Country and Track and Field for the past 4 years and is Team Captain for Cross Country. Will is a photographer earning awards for Best in Class and First Place in Youth Photography at the 2018 Del Mar Fair. He is the Photo Editor for his school's yearbook. Will is also a lifeguard at RB Swim and Tennis Club and a volunteer Junior Lifeguard at Torrey Pines State Beach. Will works part-time at Fleet Feet San Diego. GM, Fleet Feet, Katy Puckett writes, "William is a self-starter, receptive, incredibly hardworking, punctual, works collaboratively, receives positive feedback from all guests and would be a great asset to any organization."
Will is receiving the St. Bartholomew's Scholarship.
---

Alma Williams
Alma Williams graduated from Clairemont High School in San Diego. The first in her family to do so. Alma and her husband, Tyler, are the proud parents of two girls, Leyla 2 1/2 and Angelica Lee 18 months. She started classes at San Diego City College after graduation, but had to drop out to support her two younger brothers. Alma has worked for Hotel Del Coronado as the Revenue Management Group Coordinator for 11 years. She was furloughed during COVID but has since started back. Her plans are to attend classes at Miramar College, starting this summer and transfer to San Diego State University to study Business Management with a focus on Hospitality.
Alma is receiving the Evelyn Wyatt Memorial Scholarship.
---

Jade Flores
Jade Flores is graduating from El Camino High School. She will study at Mira Costa College for her Licensed Vocational Nurse Certification then transfer to a four-year university to become a Registered Nurse. She is an AVID student receiving the High Honors Award every semester since her freshman year with a GPA over 3.5. She has received the Academic Excellence Award for a GPA of 3.6 to 3.9. Jade is AP Scholar this year. Jade has received the President's Volunteer Service Award achieving 100 plus hours of community service. She is an AVID Ambassador. She has volunteered for the Wildcat Foundation for the past 4 years. Jade is El Camino Leads Club member 4 years serving as an officer, and a Key Club member for 3 years. She is a member of North County African American Women's Association, NCAAWA, Global Ambassador program for 2 years. She is a Teen Partner, Homework Helper and Book Buddy at the Oceanside Public Library over 3 years. ECHS, Career Center, Caitlin Degrafft writes, "Jade is an intelligent young lady with a kind heart and a passion to help others." Jade is sponsored by the Transitional Youth Academy (TYA) of Interfaith Community Services.
Jade is receiving the St. Bartholomew's Community Outreach Scholarship.
---

Gray Boul
Gray Boul attends Hoover High School and will pursue a major in Business Administration and Real Estate at San Diego State University. Gray has taken many Honors and College prep courses during his Junior and Seniors years. He has played Varsity Basketball for the past 3 years, receiving the Student Athlete of the Week his sophomore year. Gray is a member of the Brothers of Excellence club for 4 years. He is a member of his school's Social Justice Academy. HHS, English Language Acquisition teacher, Elizabeth Macias writes, "Gray can be defined by his courage and kindness, his intelligence and desire to learn and his compassion for his community." Gray is sponsored by St. Luke's Episcopal Church.
Gray is receiving the St. Bartholomew's Community Outreach Scholarship.